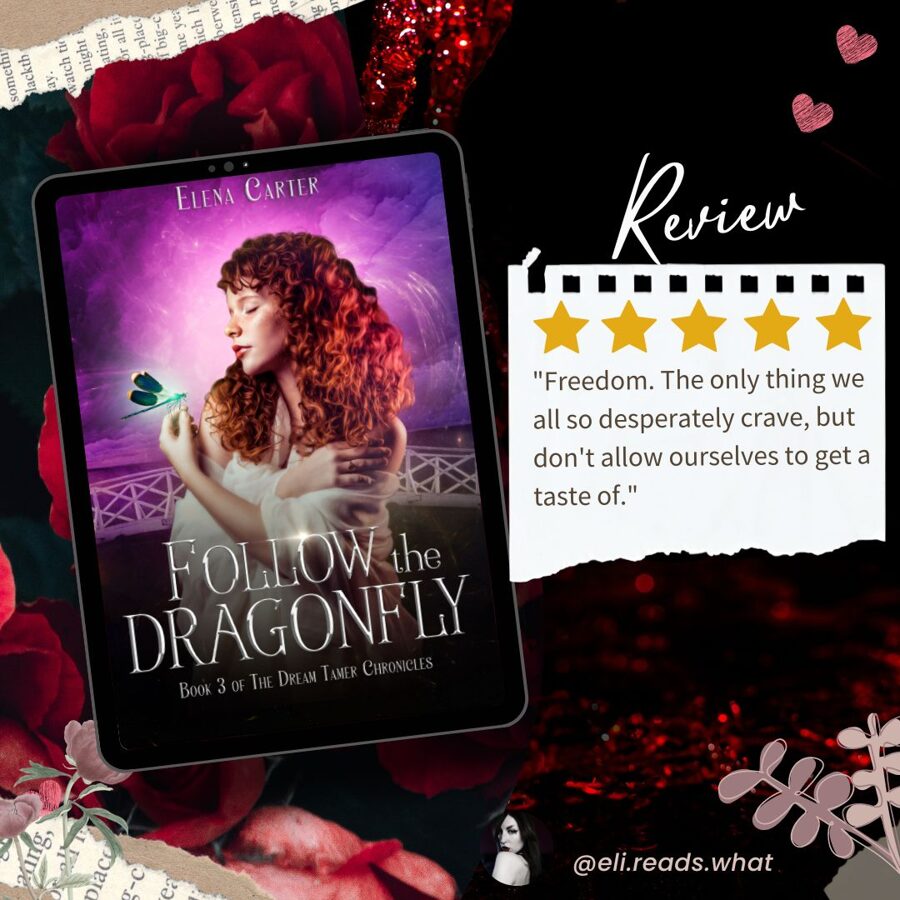 "Freedom. The only thing we all so desperately crave, but don't allow ourselves to get a taste of."
This quote embodies a significant theme that courses through the narrative of Elena Carter's "Follow the Dragonfly", in my opinion, one of her amazing abilities to craft a universe that resonates with readers.

Having journeyed alongside Tina from the first instalment of this captivating trilogy, I have observed her evolution through the chapters. Now, with the final book in my hands, I can confidently declare "Follow the Dragonfly" as my favourite in the series. Elena Carter paints an incredibly vivid world of dreams, which eerily resonates with my own experiences of lucid dreaming. The blend of emotions, adventures, and mystery weaved into the narrative makes this book the perfect cosy read that warrants a quiet afternoon tucked away with a warm cup of tea (even better if it's raining outside to set the mood).

The narrative is cleverly framed through dual perspectives, providing the reader with an detailed glimpse into the hopes, fears, and complexity of both Tina and Kate. The alternating viewpoints create an intriguing contrast that makes the narrative more engaging. Well, for me at least. I love it when I can connect to the main characters on a personal level, and for me, it only works when I can read the book from the main character's perspective (or multiple—that's even better!).
Tina and Kate, although caught in similar circumstances, face their trials with markedly different approaches.
Tina's determination and expertise as a dream traveller noticeably contrast with Kate's experience (or rather—complete lack of it), who finds herself lost and trapped in her own dream world. Both navigate this uncharted terrain with an spirit I admire (bravery and hope, no matter the odds). And the idea of a friend refusing to give up hope even when confronted with what appears to be inevitable loss is a heartrending yet powerful message in this tale. And something I genuinely admire in people (especially if you have Aries as your besties :D).

However, I must confess I was at first reluctant to dive into the series (due to the lack of romance). Yet, the themes of friendship, bravery, and transformation echoed throughout the narrative that resonated with me profoundly, and I can proudly say it was one of the best clean romance reads. Vivid, with details that make you feel like you're in the world Elena Carter created.
One scene stands out most vividly in my memory. It was where Tina meets her late husband in the dream realm to free birds from cages. It was so beautifully written and charged with emotion that it nearly moved me to tears okay, maybe there was a bit of heartache involved, too). This scene is a symbol of liberation and the transformative power of acceptance.
I won't spoil it, though.
In closing, as an hardcore fan of paranormal (smut) romance, I was pleasantly surprised to find myself drawn into the realm of clean urban fantasy. This genre turned out to be a refreshing detour, which I am immensely glad to have enjoyed.
The Dream Tamer Chronicles, with its compelling character arcs and detailed world-building, serves as a delightful reminder of the expansive canvas that indie authors can offer, challenging and expanding my reading preferences.
To encapsulate, "Follow the Dragonfly" and the entire Dream Tamer Chronicles is a harmonious blend of:
📚 Immersive World-building
📚 Journey of Personal Growth
📚 Magical Adventures
📚 Dash of Heartbreak & Redemption
📚 Touching Symbolism
For those who are in search of a series that promises an immersive journey of personal growth, magical adventures, a dash of heartbreak, and redemption, the Dream Tamer Chronicles is an absolute must-read. I assure you, the journey is well worth your time. Be ready for laughter and tears.
Purchase the series on Amazon.
Follow Elena Carter on Instagram.